This was a flyer/advertisement design for a potential TV series. This was used as part of the promotional package to potential investors and carrying networks.
I'd love for this one to get on the air, for one thing, I was very impressed with the scripts I read, for another I've got a great big star to add to my resume!

Something really fun is to see the image with inverted color. You can REALLY see the face in the binary code this way:
Concept Collage/Poster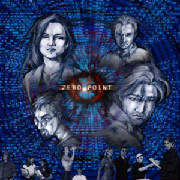 Although not related to graphic design (more of an illustration issue), I've included a collection of character sketches to the right which were for the same project. Click to view larger.